About me
This is one of my favorite pictures of me and one of my Rottwielers (Inge is her name)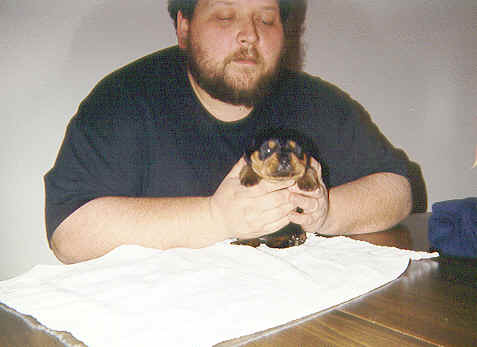 Anyway, not to much exciting about me.
I'm 35 (just turned on 12-27-00), divorced after 11yrs of marriage, and have 3 kids (Rottwielers that is, 2 females and one great big male), I also went back to school (College) after being a welder/fabricator for around 12yrs (boy was it weird going back to school in my 30's).
I've been modeling "Off and On" since I was around 5 or 7yrs old I guess.
I still remember one of my first painted models, it was a Chevy Vega-brush painted black. I can also still remember trying to strip paint off a model with gasoline and wondering why the plastic melted "LOL".
My favorite thing to do when I was little was lay on the floor downstairs and build a model while watching "Shock Theater"on Saturday nights (boy did mom get mad when I got glue on the carpet---LOL), I was also known for setting my models on the bed next to me at night and waking up in the morning with nothing but parts underneath me---LOL.
Well I'm not really much on words so check out my site and drop me a line if you'd like.
Thanks
HR