Project '72 Chevy Super Crew
(Started 12-30-00)
"Updated on 2-18-01"
My inspiration was a drawing (Below) by Jairus Watson that I saw in Scale Auto Enthusiast Magazine, it was the December 2000 Issue
"I gotta do it as a 4x4 though :-)"
Kit critique (I've built this kit many many times since I was a young boy and never did actually like the quality of the tooling, so now I finally get to give my opinion on it--LOL
I just hate AMT's lousy tooling on this kit (#6691) "even if it is old":
the shape of the window frames aren't correct (you can see this in the pic below)

the rocker panels have an upward angle from the rear towards the front of the cab (pic below)

when you assemble the box it ends up narrower than the rear of the cab

when assembling the box it actually needs some wedges put behind the sides to push them out flush

the upper chrome molding for the windshield is waaaaaay to wide (but an easy fix)

and the grill has to be fitted prior to painting because the body (where the grill mounts) needs ALOT of reshaping to accept the grill

the tailights seem to be a bit too large and out of proportion for the kit (but I could be wrong on this one)

there is more but I don't want to seem too critical----LOL
Preliminary thoughts about this project:
Body proportion (design):
I went to a local dealership and looked at how Ford (because Chevy doesn't do one) had truncated the beds on their new "Full Size" Super Crew Sport trucks, and they (unlike the Import trucks) have a 10" or 12" section of normal body panel behind the cab and before the wheel well, so i'm doing my project more like the Ford offering rather than Jairus's drawing.

Also, being a phantom I actually had no idea how large to make the rear door, so I opted to make the rear door "roughly" 2/3 or .67% of the front doors size and I think it works well with the overall look so far.
Items that need to be scratchbuilt and/or modified:
Leaf Springs & perches/& u-bolts & u-bolt pads

Axles (front and rear, would like to make it with pose-able steering)

Steering components

Driveshafts

Transfer case & mount (get this from parts box I'm sure)

Window frames

Rain gutters

Cab

Box (needs to be sectioned in front of wheel well and behind wheel well)

Graft in underhood detail from another kit (used R/M '64 P/U donor)

Interior needs to be made from kit and donor tubs

Frame (used R/M '64 P//U frame and extended/modified it)

Chassis (frame) floor needs to be made or modified (used R/M '64 P/U for donor interior floor and extended it)

More, but my mind is drawing a blank at this moment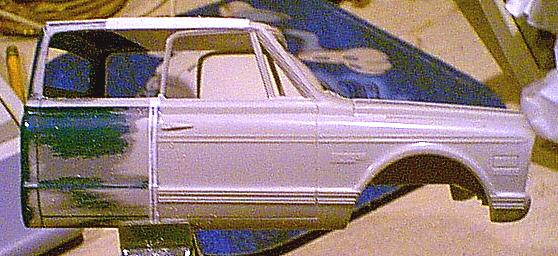 ---
I even decided to update the engine compartment just a bit by grafting in the majority of the underhood detail from a '64 Chevy pickup (very similar actually) "Donor Kit by Revell/Monogram"
---
Chassis is a modified piece from a '64 Chevy pickup "Donor Kit by Revell/Monogram"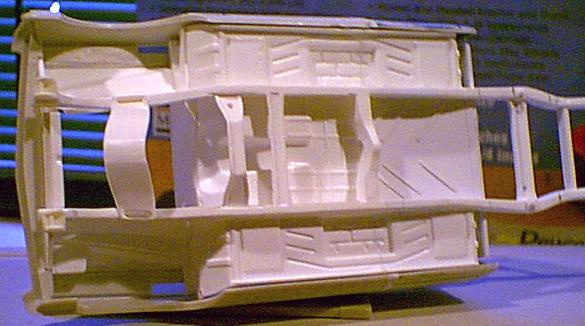 ---
I made the leaf springs out of brass (I used 1/64x1/8 and 1/32x1/8 flat).
(I first tried soldering them with a 40watt iron, but a big 200watt iron worked better)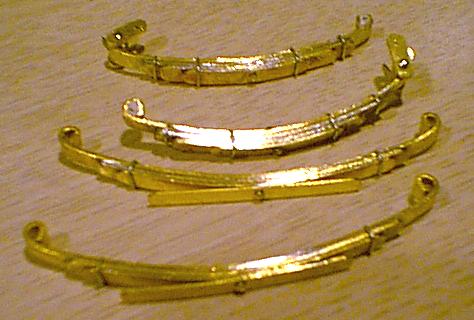 ---
I wondered how it would look so far so I set the body on an old 4x4 frame (this is not not the frame i'm using for this project) I had laying around, and set some Super Swampers next to it.
---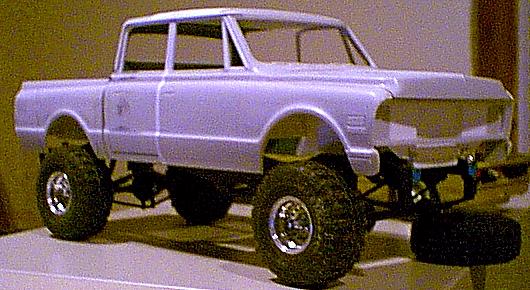 ---